Download Center
When you are listed in the directory at the Complimentary or Silver Level, we require a link back to the IWDS website. If you cannot link back to us because of your website parameters or other reasons, please select the Gold Level Membership.
IWDS LOGO
FOR A WEBSITE
1. Text Version
Just copy and paste the following text directly onto your webpage.
International White Dove Society Directory
Find a white dove release for your event! IWDS is a professional organization dedicated to the promotion of White Dove Professionals with a directory to assist anyone in finding a white dove business and an ONLINE JOURNAL to assist in education and current events involving issues related to doves, worldwide.
2. Logo Version - HTML (Special thanks to member Sheena McCorquodale from Silver Wings.ca for the great new Logo)
You may display the logo on your first page or favorites page with a link back to this website. To display the logo on your website, just copy and paste one of the following HTML code into your web page HTML: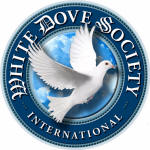 3. Banner Version - HTML
You may display the banner on your first page or favorites page with a link back to this website. To display the logo on your website, just copy and paste one of the following HTML code into your web page HTML:

3. Logo or Banner Version - Cut and Paste
Just right click the following images and then save to your computer. You may then paste them directly on your web page or upload them to your website. Be sure to link the images to http://www.whitedovesociety.com . /font>
PRINT QUALITY LOGOS - Old Version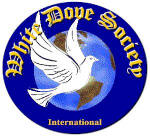 All members in good standing may use the IWDS logo on websites, for business cards, brochures, advertising, and promotion of your business. Just click on one of the following links and then after they open, "save" to your computer. You can then send them to your printer or use in your marketing material.

NOTE: These files are very large, so allow sufficient time for them to download to your computer.

Print quality TIF file (1.3 MB)

Print Quality PDF files with copyright notice: (410 KB) (289 KB)

MEMBERSHIP CERTIFICATES


Members in good standing may download a certificate of membership suitable for framing.

Certificate 2 GOLD 2008 (Add your Name) Certificate Generic Silver or Gold 2008


Some of these downloads require Adobe PDF Reader.
If you do not have a reader, it is available free from Adobe.com
Click Here for Free Reader