The Ojibwe Cross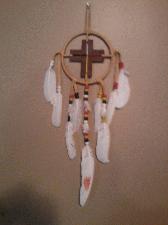 Being raised a Catholic, it was not uncommon to go into a Catholic home and find a crucifix, with the body of Christ hanging upon it, somewhere in the home. As I got older and as a result of Vatican 2, a time in the Church's history where an attempt to modernize the church was indoctrinated, the crucifix began appearing in churches and homes with the risen Christ not hanging on the cross but ascending from it. I can remember seeing this change and it gave me hope of the risen Christ and his promise of salvation.
The Ojibwe cross represents many things. First, is the cross itself, empty and simple. For me, this represents all that I remember as a believer, that Christ suffered and died upon the cross for our salvation, and that He rose from the dead and ascended into heaven: "After he said this, he was taken up before their very eyes and a cloud hid him from their sight. They were looking intently up into the sky as he was going; when suddenly two men dressed in white stood beside them 'Men of Galilee' they said 'why do you stand here looking into the sky? This same Jesus, who has been taken from you into heaven, will come back in the same way you have seen him go into heaven'" (Acts 1: 9-11 TNIV) The empty cross for me represents the cycle of Christ's life upon the earth and how that cycle ended but also began anew. The cross is empty because Christ is no longer on the cross but has risen and is in heaven Therefore the cross is a reminder of the greatest gift ever given, Christ's suffering and death for our salvation, but also his resurrection and ascens
ion into heaven and a promise of eternal life. By looking at the empty cross, we have an opportunity to remember Christ's time on earth and reflect on just how well we are doing at making the effort to mirror our lives to that of Christ, His teachings, His love, and forgiveness. Finally, it gives us an opportunity to reflect on the resurrection of Christ and His promise to bring us all into His glory upon our death, if we have lived our life attempting to mirror Christ's life in every way. At our death, it is our hope that "Today you will be with me in paradise" (Luke 23:43 TNIV).
The colours of the Ojibwe Medicine Wheel on each of the limbs of the cross represent the cycle of our lives. Each colour represents a stage in our life:
Red – Infancy, Yellow – Youth, Black – Adult and White, Old age or Elder. The teachings we receive and the choices we make in each stage of our lives either help us to choose Christ and grow in His love and teachings, attempt to mirror our lives after His and to ultimately accept and declare Him as our personal Saviour or turn our backs to Him and lead a life that turns us away from the gift of salvation He offers and gave up His life for. For those that choose to turn away, or struggle with their beliefs, it becomes our responsibility as Christ followers who are filled with the Spirit, to help bring these people to Christ at whatever stage in their medicine wheel or life cycle they are in by our example, to help lead them to a lasting relationship with Jesus Christ. On the centre strand of beads at the bottom of the hoop, the colours of the medicine wheel appear again however, in the top cluster, there is one brown bead at the bottom of the cluster. Brown represents the earth, on which Jesus walked and on which we survive. This single bead is a reminder that God created the earth and in each stage of our life cycle, again we have a choice to love and respect Gods creation, or turn our backs to it and not concern ourselves with preserving and maintaining the gift of creation which God so lovingly gave us.
The four colours also represent the four winds, north south, east and west. On the day of Pentecost, "Suddenly a sound like the blowing of a violent wind came from heaven and filled the whole house where they were sitting. They saw what appeared to be tongues of fire that separated and came to rest on each them. All of them were filled with the Holy Spirit and began to speak in other tongues as the Spirit enabled them." (Acts 2:1-4 TNIV)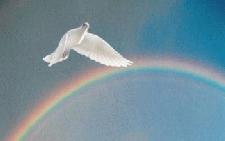 As a child, I remember clearly a picture depicting the day of Pentecost where a white dove appears in the room where the apostles and Mary the mother of Jesus were sitting and from the dove, came tongues of fire that descended upon those in the room. The dove is used as a representation of the Holy Spirit throughout the Old and New Testament. "Then John gave this testimony; 'I saw the Spirit come down from heaven as a dove and remain on Him. And I myself did not know Him, but the One who sent me to baptize with water told me', "The man on whom you see the Spirit come down and remain is the one who will baptize with the Holy Spirit." I have seen and testify that this is God's Chosen One." (John 1:32-34 TNIV)
The white feathers on this piece come from a white dove and are meant to remind us that the gift of the Holy Spirit was given to each of us when we invited Christ into our hearts and with the Spirit in our hearts, we too, as were those in the room on the day of Pentecost, have also been given gifts to be used and shared with those who do not believe or who are struggling to believe or simply need our help. The flame on the large feather represents the Spirit that was bestowed upon you when you accepted Jesus Christ as your personal Lord and Saviour that dwells within your heart and has blessed you with His special gifts.
In summary, the Ojibwe Cross is a representation of Christ who was, who is, and who is to come. It also represents our responsibility to either become followers of Christ at whatever stage we are in our lives, or as followers, to use the gifts of the Spirit to bring others, whatever their stage in life, to meet Jesus, accept Him into their hearts and become followers, filled with His Spirit so they too can unwrap the gift He has given us, salvation and peace in Him.
A follower of Jesus Christ,
Paul Cummings